Fun Friday activities are quick-and-simple ways to explore nature in your own backyard.
THE IDEA
Take the crayons and paper outside to color with a little inspiration from nature.
The little explorer – at age 2, at least – is a huge fan of crayons and loves an opportunity to get his drawing game on. And the big explorer doesn't mind creating his own masterpieces, either. So I figured it might be fun to pack up our crayons and paper and head outdoors to see what kind of inspiration the kids might take from nature.
OUR NOTES FROM THE FIELD
This past weekend we visited a seemingly unlikely place for nature play: the cemetery. We were there to enjoy dessert with my dad in honor of what would have been his 66th birthday. I knew the kids would love to draw him a picture to mark the occasion, so before we sat down to eat, we got down to coloring.
Luckily, my dad rests beneath this beautiful tree, a perfectly quiet spot to seek inspiration.
But there were plenty of other signs of nature all around, so we took a few minutes to explore. Of course there were flowers everywhere, like this overflowing bunch.
These bright red berries looked fun.
And this speedy pinwheel had my little guy in a tizzy!
After taking in the surroundings for ideas, the kids plopped down on a blanket and got to it.
They were quiet and content to color for quite a few minutes there under the shade of the tree and in one of the most serene spots imaginable.
The little explorer scribbled to his heart's content, then took to lining the crayons up in some order only he could understand.
The big explorer usually creates pictures of cars (his main obsession), so I was moved to see he had in fact been inspired to create this picture of a rainbow just for grandpa.
This activity taught me two things: 1) nature is a wonderful place to seek creative inspiration, no matter how young you might be and 2) the cemetery can be a place of wonder and peace for little ones.
We left our finished pictures for grandpa. I'm sure he's enjoying them.
TAKE-HOME TIPS
Whether your kids use crayons, markers, colored pencils or paintbrushes, all you need for this activity is some paper and a nice spot outside. For best results:
Explore your surroundings first. This gives kids a chance to slow down and seek some inspiration from the little things, like a bee on a flower or a trail of ants.


Opt for a bound notebook instead of loose paper, especially with younger kids. It's much easier to keep pages from flying off in the wind and ensures you'll have an ample supply of paper.
MORE IDEAS FOR OUTDOOR FUN
I've been meeting some wonderful new-to-me bloggers lately and am inspired by their wonderful ideas for outdoor play. I hope you will be, too! Here are some great ideas to get you exploring outside this weekend:
Here's to a wonderful weekend full of nature play and new discoveries!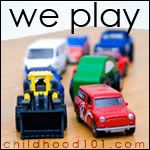 This post is just one of many dedicated to play over at the Childhood 101 "We Play" link up!